›

›

›

First-person accounts of people now living better with Parkinson's disease.
First-person accounts of people now living better with Parkinson's disease.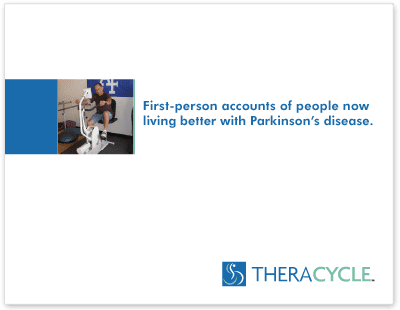 From time to time the Theracycle team sends out articles and materials that we think may be informative and helpful. Recently, we created a new eBook titled "First-person accounts of people now living better with Parkinson's disease."
This new eBook details the personal stories of five people with Parkinson's who've been riding a Theracycle and are experiencing the benefits of exercising on their Theracycle. They're not only seeing substantial reductions in symptoms, but also improving their quality of life.
If you're interested in getting a copy of the eBook, send me an email and I'll be happy to send you one: pr@exercycle.com
In the meantime, for a preview of the eBook click here to read the personal story of one of the 5 people profiled: Dave Davenport
Dave Davenport
About Dave 
Age: 60 Home: Sierra Vista, AZ Occupation: Lieutenant Colonel, US Army; 8th grade teacher (retired) PD Onset: 10 years ago Diagnosis: 9 years ago Hobbies: Exercising, target shooting, spending time with my 2-year-old grandson
My Situation 
I served over 20 years in the armed forces, including tours in both Desert Storm and Somalia. As a former U.S. Army Infantry and Military Intelligence officer, I've always been extremely active. Exercise and conditioning are a very important part of my life.
After experiencing tremors and difficulties with my gait, I was diagnosed with Parkinson's disease in 2002.
The medication prescribed by my neurologist had its ups and downs. Though it helped with the symptoms, the medication's effects would taper off as the day went on and the tremors returned. Unfortunately, to improve my symptoms, I would have to wait until my next dose took effect.
The Solution 
I learned about the Theracycle while conducting an online search for Parkinson's disease treatments. I tested it at the company's factory in Massachusetts. Once I rode the Theracycle, I knew it was right for me because of the way it limbered up my body. I bought it and I've been very pleased with the results.
My Results 
I use the Theracycle every morning, and the Theracycle loosens me up, smoothes out my movements, and keeps my body working well throughout the day.
I wake up tight each morning—too tight to provide the peddling power on my own. The Theracycle motor helps keep me in a rhythm and smoothes out the exercise. If I had to provide the power myself it would be very tough.
The Theracycle has greatly improved my ability to cope with Parkinson's and has helped me combat the stiffness.
My days that start with the Theracycle are so much better than days that don't.
##
For your own copy of the"First-person accounts of people now living better with Parkinson's disease." eBook email Patrick Rafter: pr@exercycle.com