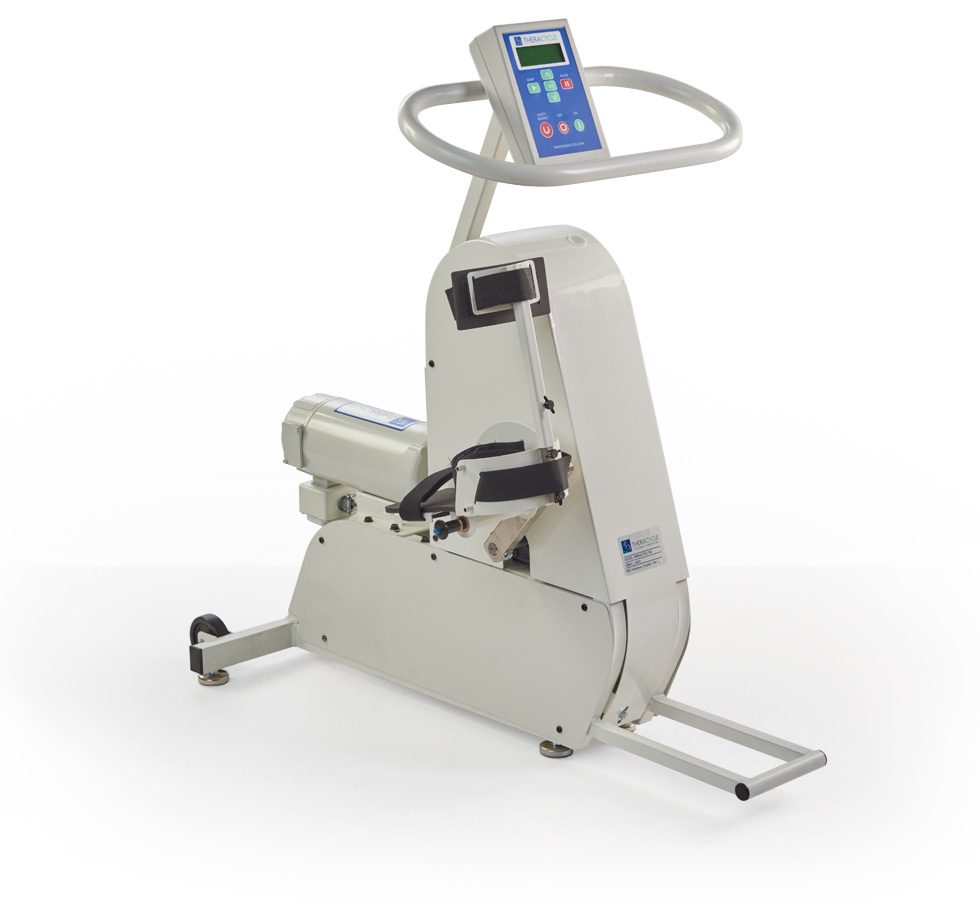 An in-home, motorized physical therapy bike for Individuals facing the challenges of being wheelchair-bound, paraplegic, quadriplegic, or limited mobility due to Parkinson's disease or other movement disorders.
View Features  |  More Information
The Motor Makes the Difference!
The Theracycle actually works with your body. While traditional exercise equipment requires a certain level of strength and endurance, the Theracycle's unique motor allows every individual to get the exercise they need regardless of their strength and endurance levels on any given day. A Theracycle provides our customers with full body motorized assisted therapy proven to reduce symptoms and improve mobility and motor skills.
Many people living with Parkinson's disease, MS, Stroke, Spinal Cord Injury, Arthritis and other neurological or mobility conditions have discovered the benefits of a Theracycle motorized physical therapy stationary bike.
Optimized for Individuals with Limited Mobility
The Theracycle 100 was developed to allow a lower body workout while seated in a chair or wheelchair.
The motor makes the difference!
The Theracycle's unique motor allows people who do not have the ability to use traditional exercise equipment to remain active. Even on a bad Parkinson's day, the Theracycle works with your body to help you to get the exercise you need for both your body and your mind.
What our users are saying
|
Read all »
The Theracycle is able to provide steady high cadences that I advocate for Parkinson's training. …
---
Theracycle Physical Therapy Exercise Bike and Rehabilitation Equipment
2018-04-27T13:46:36-04:00
David Heydrick, M.D., M.S.
Ellicott City, Maryland
The Theracycle is able to provide steady high cadences that I advocate for Parkinson's training. …
/theracycle-testimonials/parkinsons-disease-user/
I have used the Theracycle 200 nearly every day for three months and find that it does in fact provide significant improvement of my PD symptoms. …
---
Theracycle Physical Therapy Exercise Bike and Rehabilitation Equipment
2018-04-27T13:50:07-04:00
Jerry Stern
Potamac Falls, VA
I have used the Theracycle 200 nearly every day for three months and find that it does in fact provide significant improvement of my PD symptoms. …
/theracycle-testimonials/parkinsons-disease/
Another great side benefit was a 20-point drop in my blood pressure! I also have more energy and feel better both physically and emotionally. …
---
Theracycle Physical Therapy Exercise Bike and Rehabilitation Equipment
2018-05-08T11:54:28-04:00
Phil Kroeker
Monument, Colorado
Another great side benefit was a 20-point drop in my blood pressure! I also have more energy and feel better both physically and emotionally. …
/theracycle-testimonials/phil-kroeker-home-page-quote/
I'm now firmly convinced that Theracycle is of great benefit to me and to anyone else who has Parkinson's disease. …
---
Theracycle Physical Therapy Exercise Bike and Rehabilitation Equipment
2018-05-08T12:10:13-04:00
Andy Bolduc
Framingham, MA
I'm now firmly convinced that Theracycle is of great benefit to me and to anyone else who has Parkinson's disease. …
/theracycle-testimonials/597/
0
Theracycle Physical Therapy Exercise Bike and Rehabilitation Equipment
Download our
FREE eBooks